Last Updated on 17 January 2023 by Daniel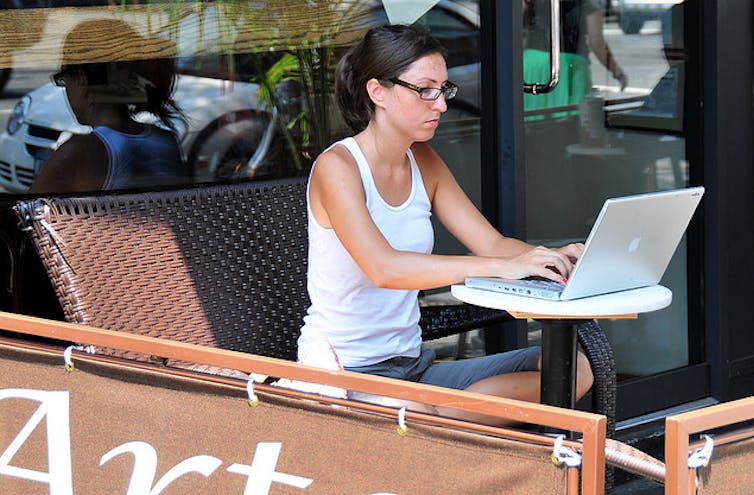 Associate Professor Rosemary Purcell, The University of Melbourne
Recent cases of online abuse against Charlotte Dawson and NRL player Robbie Farah have attracted considerable media attention and triggered public debate about how to respond to this issue.
But how big a problem is online abuse and harassment, and is it serious enough to warrant this level of attention and concern?
Not according to current research, but prevalence studies are thin. For example cyberstalking, which involves repeated, unwanted contacts via the internet, email and other communication technologies, is relatively uncommon. Only 5-10% of stalking victims report having been cyberstalked. Instead, most stalking occurs offline, where victims are followed, kept under surveillance, intruded upon at home or work, and harassed via phone calls.
A wealth of opportunity
The concern about online abuse appears to be driven more by the potential, rather than actual size of the problem. More than half a billion people worldwide share information every day about their lives on Facebook alone, let alone other social media platforms such as Twitter or LinkedIn. The scope for abuse is immense, whether via isolated instances of inflammatory and offensive postings ("trolling") or more relentless campaigns of cyber-bullying or stalking.
The very nature of cyber abuse or stalking may promote the behaviour, as it's pursued in private and often with anonymity (although as the recent "trolling" cases demonstrate, beliefs in anonymity may be misplaced). In online environments that lack an obvious social context, or rules or norms that might otherwise inhibit deviant behaviour, online abuse and harassment may appear "unaccountable" to some individuals and therefore more feasible.
That said, in the non-cyber world, many people abuse, bully, harass or stalk others regardless of social and moral conventions.
More research is needed to understand the nature and prevalence of all forms of online abuse. But online services that are designed to help victims of online abuse and cyberstalking (such as CyberAngels) report a steady increase in requests for assistance.
Online is still real
Issues of prevalence aside, online abuse in all its guises is a serious form of violence. The most common forms of cyberstalking include publishing potentially damaging or embarrassing personal information online or via email, spreading false or malicious rumours about the victim and gathering information about a victim (their home address, phone number, photos of friends or relatives and so on).
The sense of violation caused by these acts is damage enough to the victim and likely to be amplified when the abuse is shared widely via social media. Research clearly indicates that cyberstalking does not differ from its physical world counterpart in terms of the impact on victims.
Victims of both can suffer emotional damage, including profound feelings of mistrust, helplessness, depression, anger and even paranoia, as they live in anticipation of the next potential invasion of privacy or abusive contact.
Just switch off?
That's often helpful in the short term, if only to re-group" and remove yourself from the abuse. What's more critical in these situations is self-control. People who are subjected to online abuse, harassment or stalking should avoid any further contact or confrontation with the perpetrator. These people thrive on attention and any reply or response to the abuse is almost guaranteed to be met with 'more of the same'. Restraint is easier said than done. But this strategy is one of the most effective ways of bringing harassment and stalking to an end.
In addition, most Australian states and territories have laws that could be used as a legal remedy to address these forms of online abuse.
A new world order…
The explosion in the use of social media and a relaxation in inhibitions about sharing personal information online have presented challenges and made mindfulness about practical protections more relevant. Critical strategies to enhance safety online include:
Being continually vigilant about the privacy settings on social media accounts. This is often not a straightforward process of merely ticking a box (Facebook, for example has more than 100 privacy setting combinations).
Consider deactivating "Location Settings", as this can allow anyone to know your real time locations, and lead them there via Google maps
Resist the urge to regularly 'check-in' as this gives an insight into your daily habits;
Be aware that new features such as Facebook's "Timeline" allows people to trawl back through your entire online history, including the days when we were all a little less social media savvy
Google yourself, and if any information that you regard as private is revealed, contact the website administrator and have them remove the details;
Ask friends, family and acquaintances not to post any information about you that you regard as personal and private, including your contact details or photos;
Don't disclose anything online that you wouldn't feel comfortable telling a stranger offline.
Associate Professor Rosemary Purcell, Associate Professor, The University of Melbourne
This article is republished from The Conversation under a Creative Commons license. Read the original article.