Alexander Gillespie, University of Waikato
Today's release of the threat assessment by the New Zealand Security Intelligence Service (SIS) is the final piece in a defence and security puzzle that marks a genuine shift towards more open and public discussion of these crucial policy areas.
Together with July's strategic foreign policy assessment from the Ministry of Foreign Affairs, and the national security strategy released last week, it rounds out the picture of New Zealand's place in a fast-evolving geopolitical landscape.
From increased strategic competition between countries, to declining social trust within them, as well as rapid technological change, the overall message is clear: business as usual is no longer an option.
By releasing the strategy documents in this way, the government and its various agencies clearly hope to win public consent and support – ultimately, the greatest asset any country possesses to defend itself.
Low threat of violent extremism
If there is good news in the SIS assessment, it is that the threat of violent extremism is still considered "low". That means no change since the threat level was reassessed last year, with a terror attack considered "possible" rather than "probable".
It's a welcome development since the threat level was lifted to "high" in the immediate aftermath of the Christchurch terror attack in 2019. This was lowered to "medium" about a month later – where it sat in September 2021, when another extremist attacked people with a knife in an Auckland mall, seriously injuring five.
The threat level stayed there during the escalating social tension resulting from the government's COVID response. This saw New Zealand's first conviction for sabotage and increasing threats to politicians, with the SIS and police intervening in at least one case to mitigate the risk.
After protesters were cleared from the grounds of parliament in early 2022, it was still feared an act of extremism by a small minority was likely.
These risks now seem to be receding. And while the threat assessment notes that the online world can provide havens for extremism, the vast majority of those expressing vitriolic rhetoric are deemed unlikely to carry through with violence in the real world.
Changing patterns of extremism
Assessments like this are not a crystal ball; threats can emerge quickly and be near-invisible before they do. But right now, at least publicly, the SIS is not aware of any specific or credible attack planning.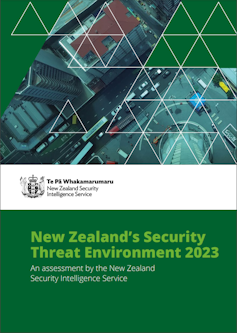 Many extremists still fit well-defined categories. There are the politically motivated, potentially violent, anti-authority conspiracy theorists, of which there is a "small number".
And there are those motivated by identity (with white supremacist extremism the dominant strand) or faith (such as support for Islamic State, a decreasing and "very small number").
However, the SIS describes a noticeable increase in individuals who don't fit within those traditional boundaries, but who hold mixed, unstable or unclear ideologies they may tailor to fit some other violent or extremist impulse.
Espionage and cyber-security risks
There also seems to be a revival of the espionage and spying cultures last seen during the Cold War. There is already the first military case of espionage before the courts, and the SIS is aware of individuals on the margins of government being cultivated and offered financial and other incentives to provide sensitive information.
The SIS says espionage operations by foreign intelligence agencies against New Zealand, both at home and abroad, are persistent, opportunistic and increasingly wide ranging.
While the government remains the main target, corporations, research institutions and state contractors are now all potential sources of sensitive information. Because non-governmental agencies are often not prepared for such threats, they pose a significant security risk.
Cybersecurity remains a particular concern, although the Government Communications Security Bureau (GCSB) recorded 350 incidents in 2021-22, which was a decline from 404 incidents recorded in the previous 12-month period.
On the other hand, a growing proportion of cyber incidents affecting major New Zealand institutions can be linked to state-sponsored actors. Of the 350 reported major incidents, 118 were connected to foreign states (34% of the total, up from 28% the previous year).
Russia, Iran and China
Although the SIS recorded that only a "small number" of foreign states engaged in deceptive, corruptive or coercive attempts to exert political or social influence, the potential for harm is "significant".
Some of the most insidious examples concern harassment of ethnic communities within New Zealand who speak out against the actions of a foreign government.
The SIS identifies Russia, Iran and China as the three offenders. Iran was recorded as reporting on Iranian communities and dissident groups in New Zealand. In addition, the assessment says:
Most notable is the continued targeting of New Zealand's diverse ethnic Chinese communities. We see these activities carried out by groups and individuals linked to the intelligence arm of the People's Republic of China.
Overall, the threat assessment makes for welcome – if at times unsettling – reading. Having such conversations in the open, rather than in whispers behind closed doors, demystifies aspects of national security.
Most importantly, it gives greater credibility to those state agencies that must increase their transparency in order to build public trust and support for their unique roles within a working democracy.
Alexander Gillespie, Professor of Law, University of Waikato
This article is republished from The Conversation under a Creative Commons license. Read the original article.